Maca the vegetable food from Peru, is rapidly gaining attention around the world for it's success in supporting energy, stamina, libido and hormone balancing for women and men. Many use it to reduce symptoms of menopause, andropause and PMS.

Human studies show Maca's benefits include: Increased libido by 180%, Increased number & mobility of sperm, Reduced blood pressure, Decreased anxiety and stress and more.

A hormonal balancer/regulator
An adaptogen supporting the entire endocrine system, especially the adrenal glands, reducing the effects of stress on the body. Athletes and body builders use this herb for a greater edge on there activities.

This Book answers most questions that men and women may have about this herb food. Learn how Maca increases energy, balances hormones and enhances sexual function for both men and women.

MACA - Native Food & Medicine of Peru - Adaptogen and Hormonal Regulator.

Author: Beth M. Ley,PhD.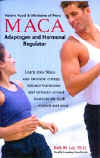 Publication
About Maca
Very Informative

$5.89