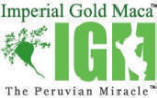 1000's Of Women Have Found Relief, Shouldn't You?
Imperial Gold Maca™ has the Following Sources of Phytochemicals: High Concentrations of Amino Acids, Carbohydrates and Minerals Including, Phosphorus, Zinc, Magnesium, Iron, Vitamin B1, B12, C, & E.

It's nutritional and medicinal values are well known to it's native Peruvians who live in the high plains, where the herb is cultivated at 4,000 - 5,000 meters above sea level. Equivalent to upwards of 11,500+ feet above sea level. (No other plant in the world has survived at this altitude) Nutra Femin For Woman Eases Menopause Symptoms

Imperial Gold Maca™ is considered to be far more superior than most herbs such as Red Korean Ginseng, Black Cohosh and many others. Some of the successful uses are for chronic fatigue syndrome, increasing mental clarity, natural hormone balancing, improved sexual function, menopause symptoms, a natural alternative to anabolic steroids, stamina and alertness, fertility, and infertility. Perhaps this is why it's called "The Peruvian Miracle™

Imperial Gold Maca™ comes with an unconditional guarantee that it is the correct species of plant (Lepidium peruvianum Chacon) it contains no weeds, is naturally grown at the proper altitude as classified by the discover of this unique herbal plant Dr. Gloria Chacon de Popovici. DR. CHACON
When it comes to hot flashes and typical menopausal symptoms, noting works as effectively! And when your looking for libido assistance, just 3 capsules twice daily will do the trick!
TO READ MORE ABOUT MACA CLICK HERE
Find Out What Maca Is Used For?
Imperial Gold Maca ™ is available in capsules and powder form and is very reasonably priced.
---
You can order it now or read even more about this unbelievable Peruvian herb. MORE MACA INFO
You can easily order Imperial Gold Maca ™ here

at our secure and encrypted order form. Check our special

We accept all these cards.


---
DISCLAIMER | WEBSITE AGREEMENT
Information on this site is provided for informational purposes and is not meant to substitute for the advice provided by your own physician or other medical professional. You should not use the information contained herein for diagnosing or treating a health problem or disease, or prescribing any medication. You should read carefully all product packaging. If you have or suspect that you have a medical problem, promptly contact your health care provider.
Information and statements regarding dietary supplements have not been evaluated by the Food and Drug Administration and are not intended to diagnose, treat, cure, or prevent any disease.