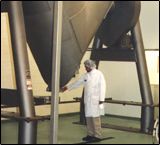 Blending and Mixing: High-volume, precision master batch blending of formulation ingredients is performed before the tableting or encapsulation begins.


Encapsulation: Fully-automated, high-speed encapsulation equipment produces a wide range of large volume, highest-quality Vitamin Power capsule formulations.



Tablet Coating: Large rotating coating pans apply micro-thin coating (pharmaceutical glaze) to tablets to help protect potency and purity while allowing increased palatability.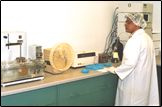 Quality-Control Laboratory: State-of-the-art laboratory testing instrumentation (including HPLC - High Pressure Liquid Chromatography) for specific analysis assuring optimum potency, purity, stability and disintegration in compliance with U.S.P. standards.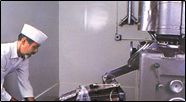 Tableting: Direct-compression tableting equipment produces highest-quality tablets in a variety of specific sizes and shapes to suit each formulation.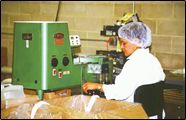 Tablet/Capsule Counting Machines: Pharmaceutical bottling systems, utilizing "electronic-eye" digital technology fill bottles with consistent accuracy for each production lot.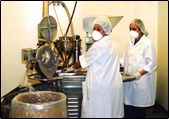 Encapsulation: Precision encapsulation equipment to produce highest-quality herbal capsule products.


Packaging Department: Automated packaging lines for accurate, high-speed bottling, tamper-proof sealing, lot number and expiration date imprinting and product labeling.



Order Picking: Computerized inventory control system enables our dedicated staff to fill your orders quickly and accurately.


Fully-Stocked Finished Goods Inventory: Carefully-monitored inventory control system and storage in temperature/humidity controlled warehouse assures consistent, factory-fresh shipments.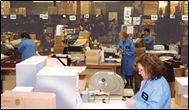 Order Packaging and Shipping: All orders are double-checked to assure accuracy, then carefully-packaged for shipping worldwide.